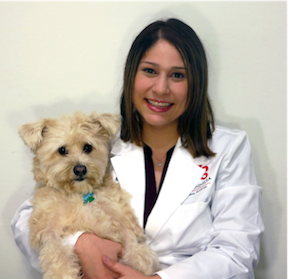 We'd like to introduce you to the latest addition to our world-class veterinary crew here at Mid-Peninsula Animal Hospital™. Dr. Celia Megdal comes to us literally from the top of her class. She grew up in the suburbs in Southern California. For college, she went across country to Brown University in Providence, RI where she graduated Magna Cum Laude.
She's easy going, pleasant, and very smart.  Her smile alone can capture your heart.
Collegiate volunteerism took her on a trip to South Africa, which inspired her decision to become a veterinarian. Her lightbulb moment happened while working at the C.A.R.E rehab center in Phalaborwa. She was caring for the cutest little creatures in the world -- orphaned baby baboons -- when one of them got caught on a fence with a pretty nasty cut around his abdomen. (The little guy made it, with human help.)
She was already studying Cognitive Neuroscience, and went back to Brown ready to add pre-vet and a focus in Animal Cognition to her major course of study.
Through the rest of her academic career, her volunteerism continued with externships at Marine Mammal Center and the Georgia Aquarium.
"I started out in wildlife and zoo and aquatics because I wanted to get ahold of as many animals as possible," explained Dr. Celia Megdal. "I wanted to learn as much about all the fields as possible. I really do love it all.  I really love surgery, and I really like neuroscience cases."  
It's not surprising that she's also Fear Free Certified® and available for guardians of animals with behavior issues. Currently, she sees both dogs, cats and pocket pets. In the future, Dr. Megdal will also be available to see "exotics," such as reptiles and possibly birds; and is working on her certified aquatic veterinarian license, which will be good news for our neighbors with koi ponds. 
These additions to her work roster may not happen right away as she's also busy planning her post-pandemic wedding, to be held on a ranch, unsurprisingly.  Meanwhile, she and her silky terrier mix, named Glitch, and her fiancé enjoy the great outdoors, with activities such as hiking and scuba-diving. In her spare time, she enjoys crafting, graphic design, and since the pandemic, she's been painting in water color a bit.
Clearly, Dr. Megdal is the complete package and we are thrilled to have her on board. Please join us in welcoming Dr. Celia Megdal to the team.