Submitted by

Carol

on Tue, 11/22/2022 - 13:09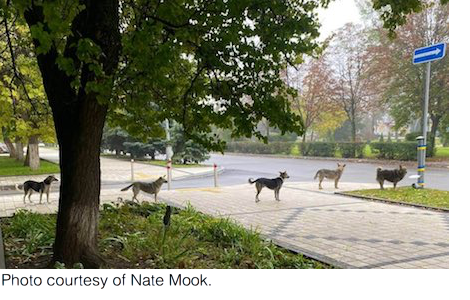 As we take a moment to give thanks, we thought we'd share with you the most profound, inspirational photo we've seen all year. It is of displaced dogs in war-torn Ukraine lining up for their turn at a pet feeding station in Kramatorsk. 
It blows us away that all on their own, they behave in such an orderly, civilized way.
As Nate Mook explained in a twitter thread, "I've never seen anything like this. Yesterday we installed a displaced pet feeding station in Kramatorsk (with your support!). This morning, the Ukrainian dogs waited in line to eat."
Nate Mook, the former CEO of the non-profit World Central Kitchen started by Chef Andres, has long followed the approach of getting in there and doing the work, and then making a way for people worldwide to support it. In contrast, our "Stand By You" disaster response projects gather the resources first, then optimize for value upon execution, which makes perfect sense for our single-strike direct actions. For this particular project, the local Ukranian volunteers and the right guy seem to have found each other.
"Food need is huge in liberated areas, but also for vets & evacuating pets from the frontline. Volunteers are risking their lives rescuing cats & dogs. So we're going to establish a fundraiser to help cover costs." Nate Mook continued in the thread, along with posting an interim paypal link.
Isn't it incredible that it's the cats and dogs who are giving the rest of the world an object lesson in how to behave as they set a perfect example. 
One can take heart from their example, and take their example to heart. 
It may come in handy at a Thanksgiving gathering. Who knows? One thing we do know is that we have so much to be thankful for, this year. We're very grateful for all of you and for all of the animals who share our lives. Happy Thanksgiving.