Whether you're new to Mid-Peninsula Animal Hospital™ or a current client, the Canine Influenza outbreak in the Bay Area needs to be on every dog owner's radar. We saw our first case two weeks ago, and by week's end had already seen several more cases.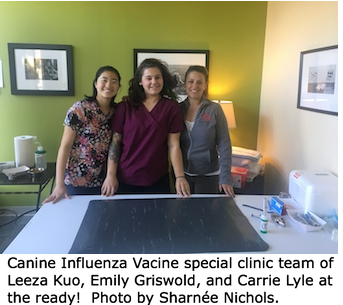 We are strongly recommending the Canine Influenza vaccination for dogs who have frequent dog-to-dog contact. Our CIV vaccination protects against both the current strain H3N2, as well as H3N8. The mechanism for getting your dog vaccinated is different for new clients versus current clients who are up to date with their dog's yearly wellness exam. Clients with dogs who are current on their annual exams can make an appointment for one of our special vaccine clinics.
During a clinic appointment, Registered Veterinary Technicians (RVTs) screen and make sure the dog is healthy enough to have the vaccine administered. Our current clients should have received an email from Dr. Lowery, which is included below. Due to robust demand, we have added several additional clinics to the ones referenced in her letter. If your dog had an exam with one of our doctors within the last year, feel free to call to make a clinic appointment. If you want to bring them in sooner, we can certainly accommodate you with a regular appointment.
For new clients, we sometimes run a special that provides a free initial exam; and now is an appropriate and worthwhile time to do so. All you need to do is make a new patient appointment, tell them you want the Canine Influenza vaccine, and we'll waive the first exam fee. It is a complete wellness exam, which takes a half hour, but you can start the Canine Influenza series at the same time. Simply fill out the "request appointment" form from our website or give us a call.
Feel free to share this blog post with any family member or friend who owns a dog. Just have them make a "new pet exam" appointment, and mention this special offer.
To explain more about Canine Influenza, here is the letter sent out to our current, dog-owning clients:
To our dog owner clients,
You may have heard about a recent outbreak of Canine Influenza Virus (CIV) in the Bay Area. We have now had two confirmed cases at Mid-Peninsula Animal Hospital™ this week. We want to share the facts with you, so you can make informed decisions about vaccination and watch for symptoms.
First, we want to assure you that CIV is not caught from humans, nor transmitted to humans. You can't get the flu from your dog, and vice versa. It's easy to get confused because we are also in the middle of a human influenza outbreak, but these flu viruses are not transmittable between species. 
The issue is that for Canine Influenza Virus H3N2 dogs are highly contagious before they show symptoms, and this is a nasty strain for which very few unvaccinated dogs have immunity.
This particular strain of CIV is the same H3N2 strain, which affected the greater Chicago area in 2015 and is now confirmed in 40 states. Dog's peak shedding of the virus typically occurs before they are clinically ill. Virtually all exposed dogs become infected, of which 80% show symptoms ranging from mild to severe. Common symptoms include malaise, lethargy, inappetence, coughing, sneezing, discharge from the nose and/or eyes, and fever. While most cases are mild, those with the more severe form have a high fever and accompanying pneumonia that requires hospitalization. 
If your dog has frequent dog-to-dog contact, we strongly encourage you to have your dog vaccinated. Examples include dogs who board, attend day care, go to groomers or dog parks, and dogs who compete in shows or athletic events. Dogs who have less dog-to-dog contact can also be vaccinated if owners prefer they have some immunity against the virus.
The vaccine is given twice (2-to-4 weeks apart), and then boosted annually.  The earliest age approved for the vaccine is 7 weeks old. A dog is only considered to have immunity two weeks after the second vaccine. The vaccine does not prevent them from acquiring the virus, rather it makes any illness milder and shorter, plus they shed virus for a few days, not weeks.
Clinical signs of many of the Canine Upper Respiratory Disease Complex illnesses are similar, despite the causative agent.  However, the clinical illness produced by Influenza is often worse than what we typically see with common Kennel Cough attributed to the bacterial Bordetella br./Parainfluenza infection.
If your dog develops a cough, please call for an appointment for us to assess their status. We may try to evaluate your dog outside of our hospital, for the initial assessment. If your dog falls into the high-risk group, or you want your dog to be vaccinated for the Canine Influenza virus, please call to schedule a vaccination, or to join our by-appointment-CIV-vaccination-clinic event on Tuesday, January 23, 2018 between 10am and 4pm, and again on February 6 from 10am to 4pm. Check our blog for details and updates at http://www.midpen.com/blog/. 
Janet Lowery, DVM
Medical Director