You know a hurricane is big when we get called to conduct pre-deployment examinations for the search and rescue dogs of Task Force 3. More properly called the Urban Search and Rescue California Task Force 3, or CA-TF3, it's the FEMA Urban Search and Rescue Task Force based in Menlo Park, California.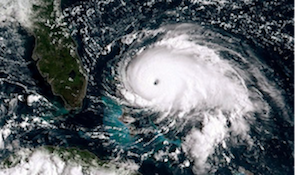 Sure enough, we got called, and Dr. Meghan Davis stepped up. Task Force 3 has been activated and are working toward likely deployment tomorrow. While you keep the whole area, and the Bahamas, in your thoughts and prayers, please include our local heroes and keep them in your thoughts and prayers as well. We want them to return home safe and sound.
One positive update for this particular disaster comes out of Martin County, Florida. They've opened their first-ever pet-friendly shelter, described as a 'collaboration' between the county officials and the school district officials. The shelter will hold up to 300 people and their pets.
We stand and applaud! Hopefully, this collaboration can make it easier by serving as a model to be copied in other counties in hurricane prone areas.
While it's a no-brainer to acknowledge that many people simply will not evacuate to a shelter without their beloved animals, we also recognize that running one is a wee bit more complicated. Pet owners are asked to bring several items with them, including: a crate, shot records, current rabies vaccination certificate, county animal license tags, medications for the evacuee and their pet, food for the evacuee and their pet, cleaning supplies if necessary, newspaper or pet pad, and comfort items for the pet.
In terms of any evacuation, that's the list we suggest pet owners to bring with them for any disaster. Beyond evacuation, when we talk about earthquake preparedness at home, we also emphasize first aid kits. All these suggestions are really good reminders that it's a good time to double check your own kit. Also, feel free to contact us if you need a proper first aid kit, need additional meds, or can't locate your shot records/rabies certificate.