Submitted by

Carol

on Fri, 03/10/2023 - 11:32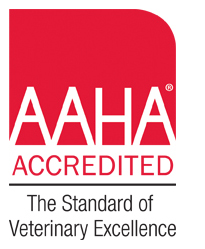 You might assume that all animal hospitals are accredited, but here in the United States only about 12-15% are accredited. Most human hospitals are accredited. Such is not the case for animal hospitals.
We are very pleased to share that Mid-Peninsula Animal Hospital has successfully passed our periodic evaluation for accreditation from the American Animal Hospital Association (AAHA). It is a real team effort and we're grateful to everyone who pitched in.
This was the most challenging evaluation because of Covid. But, it's important and foundational to who we are. Plus in the end, it brought us all joy and satisfaction to have passed once again.
Accreditation is an extensive process. The evaluation is very rigorous each time, with new standards added as the profession advances. We undergo evaluation on nine hundred (900) standards: patient care, emergency protocols, pain management and other important areas of your pet's health. 
Our commitment to AAHA standards contributes to better outcomes and improved care. It contributes to excellence in preventative care for patients, including better education and support for the pets' families. 
We're fortunate to have state-of-the-art facilities and equipment, which we couple with well-defined, written protocols and investment in our own continuing education to stay up to date on the latest. Our caring team of experts, at all levels, focus on doing what's best for your animals always. 
AAHA accreditation shows we proudly meet highest professional standards which promote best practices for patients, families and our team members. It's not a process one person can complete -- the whole team gets involved. We really appreciate our entire staff for pitching in.