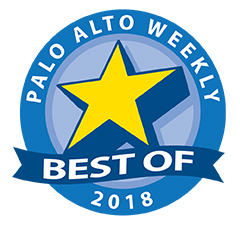 We want to issue a hearty "Thank You" to everyone who voted in the Palo Alto Weekly Best Of survey. We are honored to be chosen the Best Veterinarian of 2018. 
Palo Alto Weekly went with a Superhero theme to explain the Best of 2018 recognizes Palo Alto's "local retailers, service providers and restaurants who have used their incredible STRENGTH and extraordinary powers to go above and beyond the status quo and SHATTER the notion of 'business as usual.'"
The Palo Alto Weekly said Mid-Peninsula Animal Hospital™ is "a known leader in modern medical technology and leading-edge care" and continued to explain we offer "emergency services, internal medicine, surgery, reproduction consultation, as well as concierge services ranging from house calls and medication delivery to taxi cab transport." 
It also recognized our work facilitating adoption of homeless cats. While we do our best, we recognize that all of our clients – the animal guardians themselves – are on the front line of great animal care and true Superheros. 
If this is you, take a bow and accept our profound gratitude for being great care-takers, and for casting your vote. We are all honored. Thank you!