We're a little worried. Recent reports of the Canine Influenza (CIV) outbreak coming out of Oakland became locally significant to us with newly confirmed cases in Sunnyvale, Campbell and Mountain View.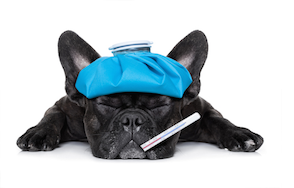 We haven't seen any cases at the hospital here yet. If we we do, we may start conducting Canine Influenza vaccination clinics like we did last winter. 
Winter or summer, the concerns are the same, whether holiday boarding or summer vacation. If you haven't vaccinated before, you need four or five weeks to get your dog ready. If your dog was vaccinated last year, you just need a booster shot.
One thing that matters is 'herd immunity.' Preventing an outbreak locally may be all about 'herd immunity.' The term sounds like it's referring to a cluster of dogs, but it's really the concept that refers to the entire population. 'Herd immunity' (or 'community immunity') is indirect protection from an infectious disease, which happens when a high-enough percentage becomes immune to infection, it provides some protection for those who can't be vaccinated or are not themselves immune. CIV is highly contagious. The more contagious a disease, the higher the vaccination rate needs to be to achieve herd immunity.
So, even if you're not boarding your dog for vacation, or you don't take them to doggie day care, it's likely your dog should still be vaccinated. The visit to the dog park, or walk around the block could expose them. 
As a reminder, Canine Influenza vaccination requires two injections, three to four weeks apart, and an annual booster injection.
Humans don't catch it from dogs. Dogs are shedding the virus before they show any symptoms, which makes Canine Influenza very contagious. It makes vaccination all the more important. The fatality rate is less than 10% and can be quite sudden. Unlike a human 24-hour flu, canine influenza recovery takes two to four weeks, which can be rough.
To learn more, or to refresh your recollection, check out Dr. Janet Lowery's letter at the bottom of the 2018 blog post from when we conducted canine influenza vaccination clinics.  
The current outbreak is confirmed as H3N2 - the same strain we experienced early in 2018. If it spreads our way we will issue an update, however be reminded: immunity takes two weeks after the second vaccination. Also, if your dog was vaccinated last year, it may be time for a booster. Headsup. Pay attention. No need to panic, but you can see why we might be a little worried.