It's not just Bob Barker who wants you to have your pets spayed or neutered. There's a whole movement, hopefully coming to a license plate near you! 
You can help make it happen! 
The State of California is considering publishing a license plate to benefit spay & neuter programs across California, and have committed to doing so ONLY IF enough people are interested. At last check 2,587 people of the needed 7,500 have signed up.
The California Pet Lover's License Plate is sponsored by the California Veterinary Medical Board and administered by the California Spay & Neuter License Plate Fund. A portion of the proceeds go directly to the Spay & Neuter License Plate Fund to pay for free and low cost spay and neuter programs through clinics, shelters and vouchers redeemable at local veterinarians.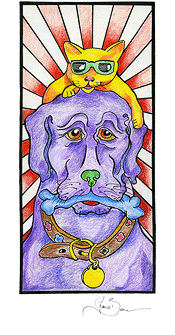 The license plate itself is beautiful, with a graphic on the left-hand side, created and donated by international actor, artist and animal lover, Pierce Brosnan. It is a painting of two of the animals he and his wife, Keely, adopted -- Shilo the dog and Angel Baby the cat. 
Also on the plate are the words spay & neuter saves lives