Submitted by

Carol

on Fri, 11/10/2023 - 11:06
What happens when you combine a world-renowned Veterinary Dentist, our local DVMs, RVTs and Assistants, and follow it up with a family-friendly party on a Sunday afternoon?  
You get world-class continuing education (CE) on veterinary dentistry and you even get a little fun! The incredible event, called "Scrubs 'N Suds CE," features two hours of intensive hands-on training, followed by a tremendously informative lecture on geriatric dental care. It then opened up for family and friends (and a few neighbors) to join a party!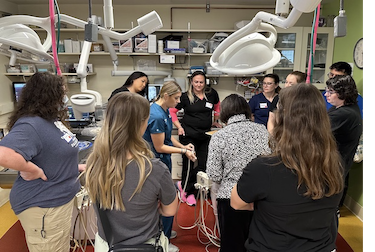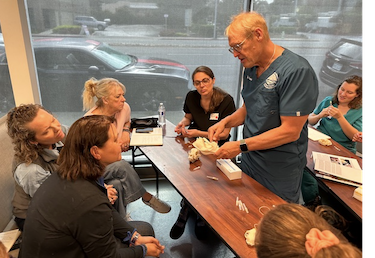 The amazing Scrubs 'N Suds CE featured educator, Dr. Brook Niemiec, who chairs the dental guidelines committee for the World Small Animal Veterinary Association (WSAVA), and literally writes books on the subject. Dr. Niemiec holds board certifications from the American and European Veterinary Dental Colleges, and is a named Fellow of the Academy of Veterinary Dentistry. He is one of fewer than 10 veterinarians worldwide to hold all three of these certificates. Clearly, he is one of the world's leading authorities in veterinary dentistry. He is also a very enthusiastic and renowned educator.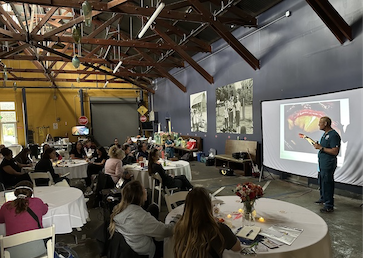 Mid-Peninsula Animal Hospital proudly got behind Scrubs 'N Suds CE by sponsoring the event along with industry leaders Boehringer Ingelheim, Idexx, Hill's, Zoetis and Covetrus. Participants, coming from as far as Martinez, enjoyed our facilities for the hands-on labs, and we turned our garage into a festive event space for the lecture and party. 
Ultimately, Scrubs 'N Suds CE made it fun and easy for DVMs and RVTs to fulfill CE requirements, and do so locally without the time and expense for travel. We were delighted with the awe-inspiring instruction and impressed by the extraordinary participants who paid such close attention. Learning can be very exciting.  
Continuing education is important, and required by the California Veterinary Medical Board (VMB) to maintain professional licenses. The Scrubs 'N Suds CE curriculum provided VMB-approved CE instruction for an important aspect of veterinary care.
While veterinary dentistry for horses has been practiced for centuries, it only became a specialty for small animals in the late 1980s. In veterinary schools, veterinary dentistry is routinely taught only as an elective. CE is crucial for learning and staying up to date with advances in veterinary dentistry. The opportunity to learn from a wonderful, world-renowned expert, and to do so in such an intimate setting, was extraordinarily inspiring. 
The model of following CE with a party that includes family proved simply brilliant. Family members got to see more of what goes into veterinary work. Colleagues got to bond, or catch up, in a relaxed environment. Nobody had to go home and make dinner.  
Scrubs 'N Suds CE provided an incredible event that ensured our animal patients get the most up-to-date, modern dental care (win), our professionals gained skills and fulfilled their CE requirement (win), and our clients can rest assured knowing we're staying on top of it (Big Win!). Ultimately Scrubs 'N Suds CE was a "Win, Win, Win" and a Party!